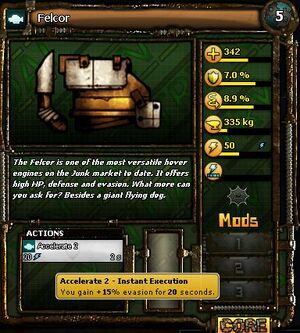 Statistics
Edit
TP Cost: 5
Health: 342
Armor: 7%
Evasion: 8.9%
Weight: 335 kg
Accelerate 2 - Instant Execution
You gain +15% evasion for 20 seconds.
Casting Time: 2 Seconds
Cost: 20 Energy
Flavor Text
Edit
The Felcor is one of the most versatile hover engines on the Junk market to date. It offers high HP, defense and evasion. What more can you ask for? Besides a giant flying dog.