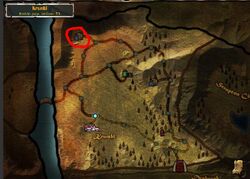 The last of the 5 basic
quests
in
Krumbl
. Finishing all Drybrook basic quests rewards the key to the next zone,
Krumbl
.

Fight and win several battles in the arena vs. bots to complete the quest.
What better way to relax after your long hike to this arena other than clobbering a bunch of locals? Show 'em who's boss.
- 45 Oil